June 21, 2023 – August 13, 2023

Show your inspiration in two unique ways! Participants can enter into one or both of the below categories. 

OPENING RECEPTION
Join us on Wednesday, June 21 from 5 – 7 pm.

CATEGORY 1
Artisans are invited to enter a summer-themed exhibit called Inspiration! We are looking for works of art that inspire you as an artist. Artworks must be accompanied by a statement about why or how this work inspires you.
A few examples:
A painting/portrait of someone who inspired you.

A sculpture that you were inspired to create after traveling.

A drawing that inspired you to create a series of works.
Artists may enter ONE work of art for $15 ($10 for members) and must include a written statement.
The number of works accepted will be based on the gallery room available. Monetary prizes will be given for 1st, 2nd, & 3rd place.
Artwork drop off will take place:
• Friday, June 2 from 12 pm – 8 pm
• Saturday, June 3 from 10 am – 1 pm
RULES OF ENTRY
Open to all mediums. This includes, but not limited to, drawings, paintings, prints, photographs, sculpture, ceramics, collage, fiber, jewelry, etc.

All work must be framed and ready to hang or display.

Entries must have been made in the

past 10 years. Works that have been on display at AMOA prior are ineligible.

Entries must be original and must not be copied, derivatives, or based on other copyrighted or published work.

All skill levels are welcome. Open to ages 18 and older.


All reasonable care is taken to prevent damage to the works received. AMOA cannot accept responsibility for damage/loss to artwork during delivery or return. AMOA will insure works selected for exhibition during their public display. Works will be insured at market value or indicated insurance value. Maximum coverage for entry is $2,500.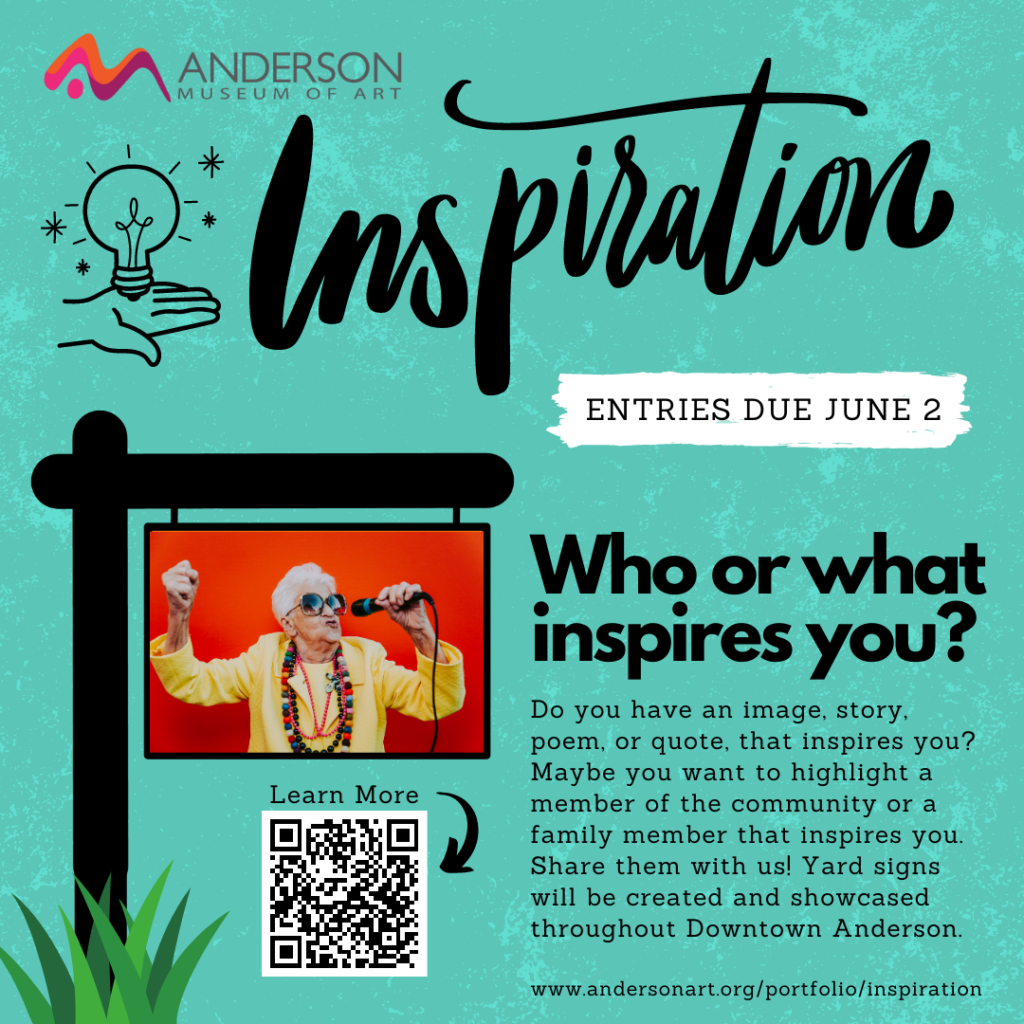 CATEGORY 2
Category 2 is open to everyone! You do not need to be an artist to submit.
Do you have an image, story, poem, quote, etc., that inspires you? Maybe you want to highlight a member of the community or a family member that inspires you. Share them with us! Yard signs will be created and showcased throughout Downtown Anderson.
Portrait image (jpeg or png) preferred. Please keep stories, quotes, poems, or any text to 100 words or less.
Signs can be purchased below for $15 each. There is no limit to the number of signs that can be purchased. Please email your image and story to Stephanie. mailto:smichaels@andersonart.org